June 1988, a race is born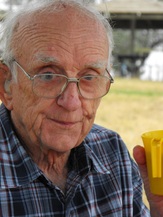 MCC-SA Life member Ron Blum
The Riverland Paddling Marathon has been run in one format or another on the beautiful Murray River in South Australia since June 1988. Previously referred to as the Murray 200/100/Relay it took a group of adventurers with great foresight to test their mettle on that first weekend and in doing so give birth to a new and great paddling event.
In that first year the Murray 200 was conducted for the first time due almost entirely to the efforts of legendary paddler, Ron Bath. 46 paddlers in 32 boats started in the event. We did not have a Murray 100 in this first year instead we offered two short courses, a 66 km and a 40 km course. Only one person paddled the former and eight the 40 km course. What got our race off to a good start was the fact that Ron Bath roped in David Rizolli and Gerry Brayne as Race Starter and Commentator, roles they were accustomed to in the Red Cross Murray Marathon. Their professionalism and wit were a tremendous success which continues to this day.
The following year 1989 was the beginning of the Murray 100 as we know it and the Relay a year or two later.
The Race results from that first Murray 200 include some familiar names still well known in canoeing today. Ted Jackson (deceased), Robyn & Ian Pope, Rob Wight, Derrick Stevens, Graham Mitchell, Don Gomer, Jim Murphy, John Hales and of course Ron Blum.
Ron Blum (photo) paddled in a single that first year and four paddlers from the event decided to team up later that same year for the Red Cross Marathon in a K4 in the Vet50 class. It had never been done before in Vet40 let alone Vet50.
We genuinely wonder if we would consider such a crazy yet enjoyable adventure today? Probably not but we all owe a debt of gratitude to those who came before us and started something that continues strongly more than 20 years later.
---